"Behr's Escape" Vacation Condos – True Paradise On Maui
Come stay with us – two excellent condos in South Kihei, South Maui.
Select from either our Kihei Kai Nani condo or our Kamaole Sands condo
each located directly across from the famous Kamaole beaches II and III in South Kihei, Maui.
We also offer our friends Condo A409 in the Maui Sunset resort in central Kihei.
Kihei Kai Nani – Unit 218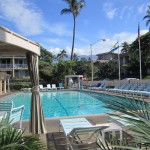 Kihei Kai Nani is a popular low-rise resort on six acres of tropical gardens in South Kihei, Maui. Walk amidst coconut palms, smell the sweet blossoms of Plumeria trees, marvel at the bananas growing right outside your window, enjoy the hibiscus and other tropical flowers throughout.
Our 1 bedroom "Behr's Escape" Maui Condo Rental in south Kihei offers you both a partial Ocean View, and a beautiful garden view to Mt. Haleakala looking over our large fresh water pool and tropical gardens.
A 2nd floor, corner unit, #218 in bldg. 4, with extra windows to enjoy those tropical breezes and additional light. Upgraded and fully furnished with all the conveniences of home including a fully stocked kitchen. There is new LVP flooring in the living room and bedroom, floor tile in the kitchen, hallway, and a upgraded bathroom.
Begin each day by sipping your morning coffee on the private lanai, watching beautiful sunrises over the top of Mt. Haleakala, while tropical birds call out to each other, and hear the Francolin bird with its morning wakeup call.
Stroll down to our beautiful beach for a morning swim, or take a dip in the large fresh water pool. At days end, back to the beach again for watching glorious sunsets. Check out our reasonable Rate Schedule. photos and information.
Kamaole Sands – Unit 1-204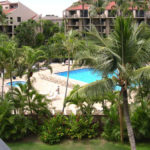 Kamaole Sands Maui Condo Rental. Come and stay with us at the best resort on Maui. From our lanai enjoy a super view of Mount Haleakala, plus partial ocean view and the Island of Kahoolawe, all while overlooking lush tropical gardens with fish ponds, fountains, flowers and lots of foliage.
Building One – Unit #1-204
Inner Court Yard
Our condo, 'Behr's Retreat', is a 1 bedroom 2 bathroom unit with newly upgraded kitchen, complete new shower in the hall bathroom, new tiled vanity tops sinks and faucets, new carpeting and floor tile in the kitchen, the hallway and both bathrooms. Also new drapes, lamps, bedding, towels, dishes, flatware, plus much more. Fully furnished, including a 40 inch flat screen TV, a new queen size bed and a sofa bed with double size new mattress, and a fully equipped kitchen with everything needed to prepare most any meal and we provide all your linens and towels. Check out our reasonable Rate Schedule. photos and information.
Additional Options
Should our condos already be reserved for your specified dates or you need a second condo for friends traveling with you, we offer over 45 other quality condos in So. Kihei, Maui and owned by our friends. Located in six different resorts. Kihei Kai Nani, Kamaole Sands, and the Maui Sunset resort in central Kihei. Click HERE to learn more.
---
Have A Question?
Call us at 916.684.6659 (PST) or click HERE to use our convenient Contact Form.